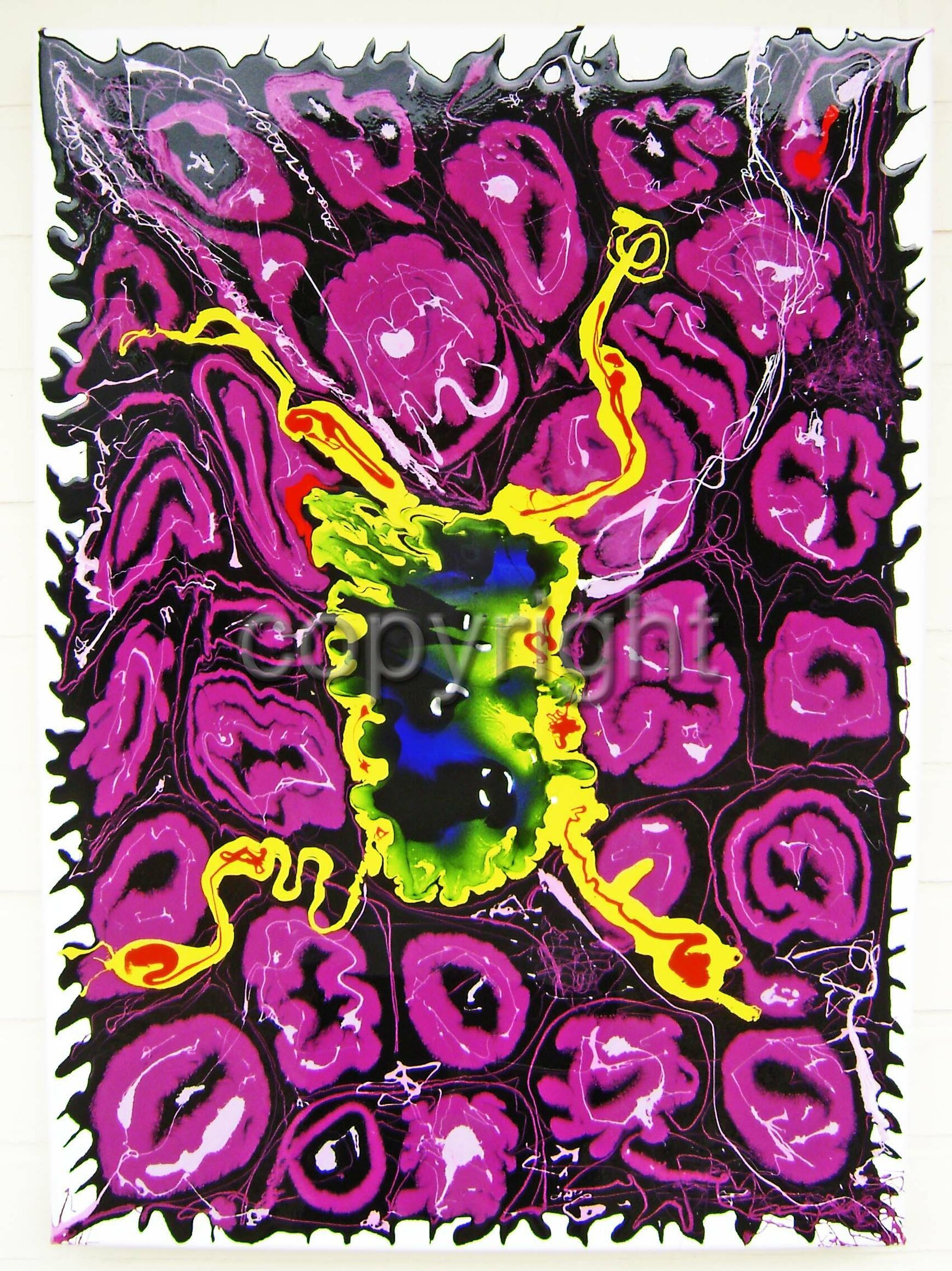 "De Purperen Hersenen van de Aarde-mensen"
"De 3de graad van bewustzijn"
Ik herhaal ...de schilderijen worden gecreërd op basis van 'intuïtieve fantasie". Zonder na te denken! Nadien maak ik een analyse op basis van 'diepte psychologie'. Kunst is namelijk 'zuivere psychologie'. 
Rechthoeken en vierkanten zie je veel bij kunstenaars! De "vier" zijden komen telkens terug. NUMMER 4. Getallen werden NOOIT bewust uitgevonden! Denk maar even aan de 4 seizoenen, de 4 Evangelisten, de 4 stromen in de Hof van Eden, 40 dagen vasten, 40 jaar in de woestijn. Een geschilderd vierkant, rechthoek of driehoek is een 'onbewust symbool' van hét ontstaan van ons 'menselijk denken'. Een vierkant zal altijd hét 'teken' van dé aarde blijven.
Je kan deze vierhoekige tekens reeds terugvinden in de grotten van Lascaux, Frankrijk. Deze abstracte kunst is 30.000 jaar oud. NIETS origineel dus om vierkanten als Mark Rothko te schilderen! De curators zijn er 'gek' op, maar begrijpen hét niet altijd?
Het is een kosmologisch teken en maakt deel uit van onze 'onbewuste menselijke geest'. Daarom grijpt het ons ook zo aan... vandaar die gekte!
Ook cirkels zijn belangrijke tekens...symetrische lijnen ook...etc...?
"Purple brains of the people from the earth"
"Third degree of consciousness"
A square, quadrangular squares like in the Caves of Lascaux, France has 'always' been a symbol of the Earth. 4 sides, 4 evangelists, 4 seasons  etc... "4 is a cosmological number" that brings structure in the psyche and this started 30,000 years ago in Lascaux: see 'signes quadrangulaires' on www.google.fr
60 / 80 cm

Philippe Smith