A green plant is coming out of my belly (Serie Dynamic)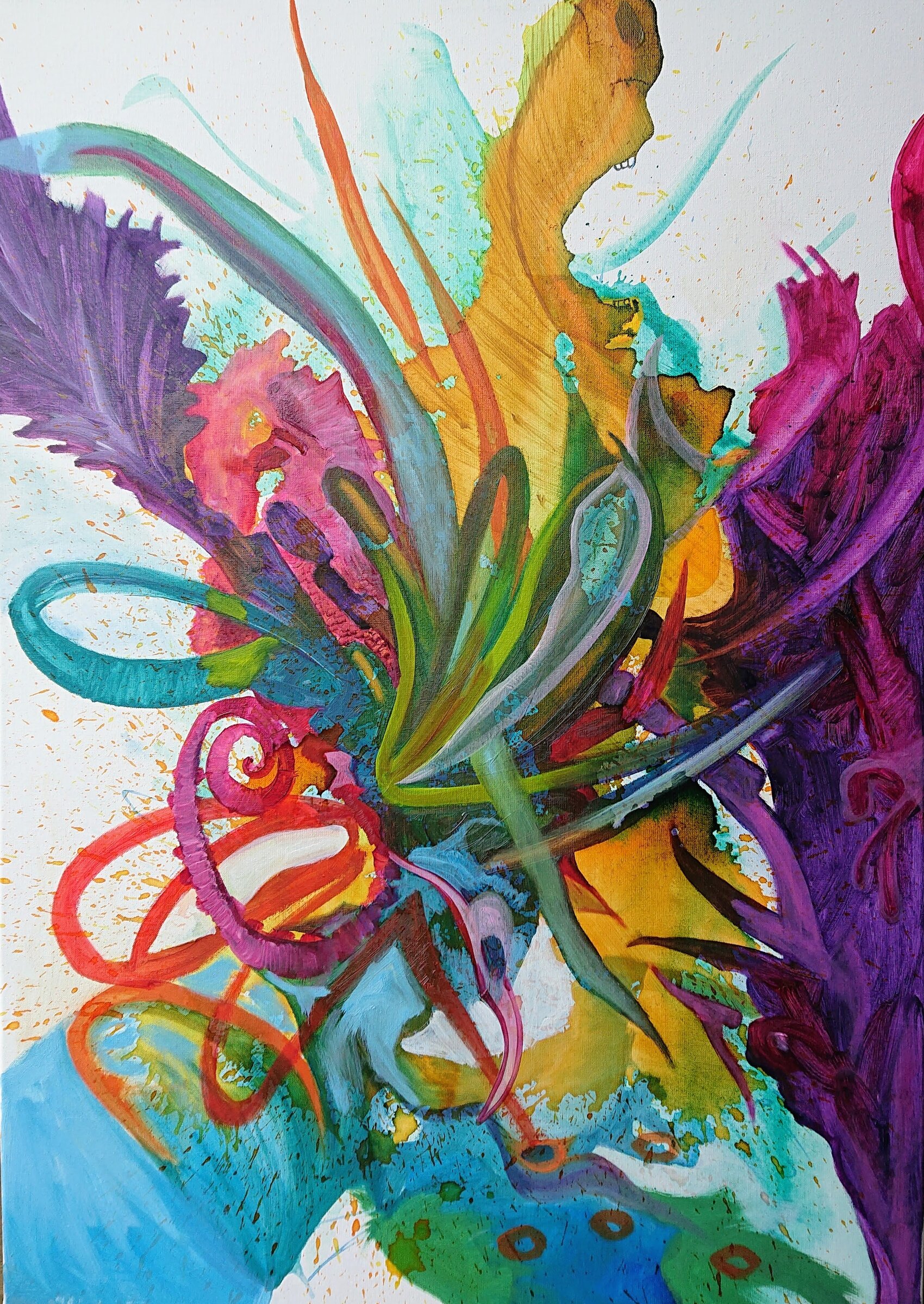 A green plant is coming out of my belly (Serie Dynamic)
NL:
Een gele figuur, een roze figuur. Opeens stonden ze daar.
Bij het overschilderen van een ouder werk, wist ik niet welke richting ik uit zou gaan. Ik draaide het beeld om en goot er wat ecoline over. Een nachtje laten drogen en dat was het voor dan.
Het beeld dat gevormd werd door het onderliggende schilderij en de ecoline voelde naar mijn gevoel zeer zwaar. Ik moest het terug openbreken en luchtiger maken.
De groene planten drongen zich op en vroegen om meer duidelijkheid. De olieverf deed weer zijn intrede op mijn doek. Een roze krul ontstond spontaan uit de wortels van de plant. Hij leek wel op de staart van een zeepaardje. Althans, zo zag ik het. En onderaan doemde een blauwe vogelkop op met een roze bek, waarvan het lichaam veel te groot werd. Had hij zich overeten?
Stilletjes aan kregen de gele en roze figuur meer betekenis.
De gele figuur staat met zijn mond open, wil iets zeggen maar vindt niet de juiste woorden. De roze figuur lijkt, met gekke ontbrekende vingers, iets uit te leggen. Wat zegt hij? Hij komt in mijn ogen een beetje beleerd en alwetend over.
Een groene plant groeit uit mijn buik.  Voor mij is hij een metafoor voor zenuwachtigheid. Telkens als ik een stapje dichter bij mijn doel kom kriebelen ze in mijn buik.
ENG:
A yellow figure, a pink figure. Suddenly they were standing there.
When I repainted an older work, I did not know which direction to take. I turned the painting upside down and poured some ecoline (coloured ink) on top of it. Let it dry for a night and that was that.
The image formed by the underlying painting and the ecoline felt to me very heavy. I had to break it down again and make it lighter.
The green plants started to appear and asked for more clarity. The oil paint appeared on my canvas again. A pink curl arose spontaneously from the roots of the plant. It looked like a seahorse's tail. At least, that is how I saw it.
At the bottom of the painting a blue bird's head popped up with a pink beak, its body becoming far too big. Did he eat too much?
Gently, the yellow and pink figures became more meaningful.
The yellow figure stands with his mouth open, wants to say something but does not find the right words. The pink figure seems, with crazy missing fingers, to explain something. What does he say? in my eyes, he pretends to know it all, but he does not...
I'm the yellow figure. A green plant is growing out of my belly. To me it's a metaphor for being nervous. Every time I get one step closer to my goal, it tickles in my belly.
100cm x 70cm
Eefje Van den Brande